Celebrating Wigan!
Our Community Art Mural at Wigan North Western Station
Designed by local artist, Jess Riley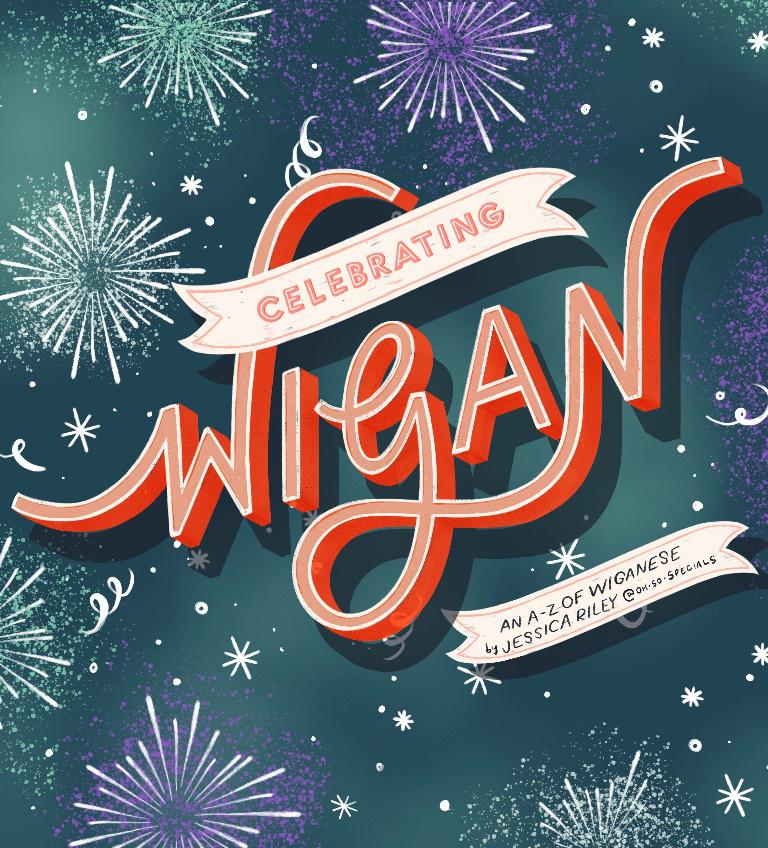 The unique words of Wiganese are a part of what makes this place the warm and vibrant community it is. With some dialect dating back as far as Norse times, and others relating to mining history and Irish immigration, many Wiganese words and phrases are still used today – and some forgotten ones are worth rediscovering!
Wigan is celebrated in our mural not only through a dictionary of fascinating language, but through its rich social and industrial history, its funny, friendly and down to earth residents, plenty of iconic landmarks and a culture that is one of a kind. Each word or phrase is decorated with a particular corner of Wigan's heritage or reflects a way of honouring the special people that have contributed to this unique work of art.
The collection of these words and creation of this mural could not have been possible without the invaluable input of the wonderful people of Wigan. Thank you to everyone involved. Special thanks to the support of our fabulous independent local businesses (including Kawa's Coffee & Wine Bar, Boutique by Colette, and Little Pot Plants), to The Swan & Railway Hotel, to Wigan Youth Zone, Wigan & Leigh Archives, to the team at Wigan North Western Station, Sign Print Solutions, Pro Vinyl Manchester and Avanti West Coast for funding the project.
Wiganese A to Z
A is for Avtowdthi
Translation: 'I've Told You'
'A' is dedicated to Sheila Davidson and the Friends of Hindley Station.
'Avtowdthi' was requested by Sheila herself and represents a very Wigan turn of phrase.
The artwork depicts many elements that can be seen at beautifully cared-for Hindley Station, including the Hind of Hindley, the corncrakes from the Leyland family crest, the windmill and a host of decorative flowers, plants and rocks.
B is for Babbiesyed Peywet
Translation: 'A steak/suet pudding with the juice from mushy peas'
Babbiesyed is so called since the smooth pastry of the pudding looks like a baby's head. The artwork for the piece shows a row of Babbiesyeds, shiny with peywet!
C is for Chauve
Translation: 'To Aggravate'
How to use this word in conversation: "Stop chauvin' me!"
The artwork shows an impression of the buildings on the iconic Wigan Pier, as a backdrop to this classic Wiganese word.
D is for Dougie
Translation: 'An affectionate nickname for the river that flows through Wigan – the River Douglas'
The outline of the river is mapped across these panels and intertwined with the letters from the word 'Dougie', natural elements found along the backs of the river appear in the background of the piece. See if you can find the lion from Haigh Hall!
E is for Eee…
Translation: 'A common prefix for many Wigan phrases and expressions'
Examples of usage – "Eee I could eat a buttered frog", "Eee yafflaff", "Eee tha's a belter!"
The lettering for this piece was inspired by an artwork created by Emily, a member of Wigan Youth Zone.
Included in the background is the historical architecture of the Old Courts, Haigh Hall and Wigan Town Hall.
F is for Fur Clempt
Translation: 'Very Hungry'
Research into the Wigan archives saw me find in the Glossary of Lancashire Dialect the words 'Fur' meaning further or distant, and 'Clem' meaning to starve.
The lettering for this piece is based on a design by Wigan Youth Zone Art Coordinator, Catherine Bryan. It has an art nouveau feel (1890s-1910s era) and the look of a stained glass window, which lends itself well to incorporate an impression of the Tower Window at Wigan Parish Church as it's backdrop. This particular window in the church was erected in 1891.
G is for Gerrumonside
Translation: 'Get them on side'
This Wiganese expression would usually be heard shouted from the stands of a football or rugby pitch. Look closely and see all the rugby and footballs that cover the backdrop of this piece.
H is for …
There's no 'H' in this A-Z of Wigan Dialect
Starting a word with the letter H here is said to be 'rather unnecessary' (Peter Wright, The Lanky Twang).
I is for I Corn't Speyk!
Translation: 'I stand amazed'
Most recognised from now infamous Wigan rugby footage featuring Castleford commentator Mick Morgan; hence the super-sized speech bubble, this phrase is a way of expressing total disbelief and amazement.
J is for Jackbit
Translation: 'Food'
The origins of this term are debatable, but it is generally agreed that the word was originally used by pitmen, and believed to be attributed specifically to coal miners who had arrived from areas like Newcastle and Leeds. The coal mining industry is therefore incorporated into the design for this piece, with silhouettes of Wigan's mining statue that can be found next to the Town Hall.
Other suggested literal translations for Jackbit are 'small bite' or 'Jack's bait/Man's food'.
K is for (Wigan) Kebab
Translation: 'Pie barm'
THE classic culinary delight. A pie of your choice on a buttered barm cake (another disputable term!) Illustrated in a pop art style backdrop.
L is for Lothered
Translation: 'sweating'
Palm trees adorn this piece in homage to King Street's Ibiza Bar, complete with bright Christmas lights as a nod to Wigan's famous Boxing Day antics.
M is for Maultdeerf
Translation: 'Stressed out/overworked'
From the more vivid literal translation of 'Mauled to Death'
The old Wigan Baths and diving boards are illustrated in this piece. A perfect antidote to stress!
N is for Ney
The lettering for this piece is inspired by a Wigan Youth Zone member, Poppy.
Poppy's lettering shapes have been transferred to a larger silhouette, with her mosaic ideas brought to life in the shadows of the word.
The beautiful rosettes that appear in the background can been seen in the Galleries shopping centre (though the colours have been changed for the purpose of this mural).
O is for Off Wom
Translation: 'Going Home'
Example of usage – "I'm off wom, al sithee after!"
The design features another big speech bubble to represent the announcement that one is leaving and going home.
P is for Put Wood Int'hole
Translation: 'Close the door'
Literal translation – Put the wood in the hole.
Part of the Celebrating Wigan project involved asking locals what they loved most about Wigan. The hearts and stars that you see in this piece are artworks by Amelia and Poppy from Wigan Youth Zone. When encouraged to create art based on Wigan they used phrases like 'Wigan, you are a star', putting the words 'pie' inside love hearts and using lots of vibrant colours in their work.
R is for Reet
Translation: 'Right'
Other uses include – "Be Reet" (It'll be ok), "Alreet/Oreet" (Hello), "Art'oreet" (How are you)
When asked what memories people have of growing up in Wigan, many recalled "going to Mesnes park and rubbing the golden shoe for luck." The bronze statue of politician Sir Francis Powell has dulled over the years, but the shoe remains shiny and bright due to all the rubbing! The shoe has been incorporated into this piece for luck, or for everything to 'Be Reet!'
S is for Si-thee
Translation: 'To Behold'
Other uses include – "Alsithee" (See you later/Goodbye), "Sitheemorn" (See you in the morning), "Sitheeafter" (See you after/tomorrow)
This piece is a reimagined frontage for the old Wigan Casino. Complete with new neon lights and a crowd of club-goers waiting outside
T is for Thamaunt
Translation: 'You Must Not'
This piece celebrates Wigan's rich industrial history by depicting a selection of the mills that did (and some that still do) appear across the landscape of Wigan and its surroundings.
U is for Uze Int Chur
Translation: 'Who's round is it'
From the literal translation – 'Who's in the chair?'
An apt Wigan phrase suggested by Landlady Shelley Wright of the longstanding Swan and Railway Hotel opposite Wigan North Western train station.
Tiles from the pub's bar have been placed as the backdrop of this piece, with Victorian circus style lettering reminiscent of the time the pub was built, back in 1898.
W is for Wot Fort Do
Translation: 'What to do'
Example of usage – "I avfot do my homework but I don't know wot fort do forrit"
Two of these famous buildings (Pemps and Wigan Casino) illustrated behind the lettering of this piece unfortunately no longer exist, though they are strong in the memories of those who loved clubbing in the 1970s and 80s! The third building, The Princes, still stands as a different bar nowadays. The iconic dance moves of Northern Soul can be seen across the piece, well worth an internet search if you've never heard of these moves!
Y is for Yon Mon
Translation: 'Him'
'Mon' is a common Wigan term that refers to a man. 'Yon' is a shortened version of yonder. Therefore 'Yon Mon' technically means "man over yonder" or "that man over there".
Other submissions in the search of Wiganese words included:
Lekkymon – Electric meter reader
Binmon – Refuse collector
Th'eggmon – Egg delivery person
The artwork for this piece relates to one of Wigan's most recognisable characters and landmarks, Uncle Joe and the mint ball factory. The lettering appears on an impression of the mint ball factory wall, in the style of the famous slogan 'Uncle Joe's Mint Balls Keep You All Aglow'. Across the sky you'll see piles of the mint balls flying around in and out of their wrappers!
Z is for buZZtop
Translation: 'Bus Stop'
Illustrated here are the old Gas Show Rooms on New Market Street. When collecting people to take on day trips, sports matches, nights out or holidays, coach companies used to tell people to 'wait at the Gas Showrooms.'
---
The collection of these words and creation of the mural could not have been completed without the invaluable input of the wonderful people of Wigan, tha knows!
Our thanks to everyone involved, and to Avanti West Coast for funding this community project.
Jess Riley – Local Artist
Dr Steph Dermott – Project Manager for South East Lancashire Community Rail Partnership